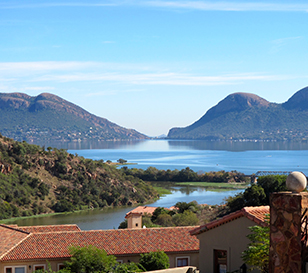 Since its inception in 2000, Estate d'Afrique is still the most private and pristine development in the Hartbeespoort Dam area with its unique French Provençal architectural style reminiscent of the small intimate villages along the coastlines of France. With its picturesque villas, boathouses, private jetties, indigenous natural rock, earthy colours, cascading water features and cobbled streets, the 310 stands at Estate d'Afrique offers the ultimate in Estate living.
The Estate is made up of 3 Villages:
Ville d'Afrique – 89 residential stands
Port Provence  117 residential stands, 85 boathouses and watercraft launch site
Beau Rivage – 104 residential stands
Due to its unique combination of mountain, wetland, grassland and river eco-systems, the Estate boasts a wide variety of fauna and flora. Duikers, Baboons, Scrub Hares, Water Monitors and even a resident Caracal are among the many types of wildlife roaming the Estate.
Estate d'Afrique is a proud member of the Magaliesberg Biosphere, recently declared a World Biosphere Reserve which covers almost 358 000 hectares. 
Besides the range's unique biomes such as the central grassland plateaux and the Sub-Saharan savannah , it has a very rich biodiversity and is home to, amongst others, the Aloe Peglerae and Frithia Pulchra  (commonly known as "Bobbejaanvingers", a perennial succulent). The area also boasts 443 bird species, almost half the total bird species of Southern Africa.
The area is endowed with scenic beauty, unique natural features, rich cultural heritage value and archaeological interest with the Cradle of Humankind, which is part of the World Heritage Site with four million years of history.
In close proximity to the Estate is a huge variety of activities such as abseiling, hang gliding, golf courses, balloon safaris, the Cradle of Humankind, restaurants and much more.